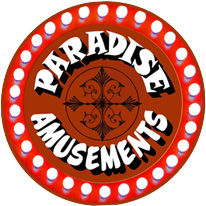 RIDE AND MIDWAY SAFETY
Safety is our number one priority at Paradise Amusements, Inc.
Our rides are inspected at every setup by our maintenance team and daily, by our ride operators. On a weekly basis all rides are also inspected by local and state safety inspectors and annually, by our insurance company's inspectors and state inspectors.
It is rare to find anything wrong with our rides, but when we do, it is fixed correctly before the ride is put back into operation.
Our winter quarters are located in Ocala Florida, where we work year round to improve the appearance and safety of our rides.
Our ride operators are well trained in all aspects of their particular ride including setup procedure, inspection and operation.
All ride operators and employees of Paradise Amusements, Inc. are drug tested to ensure safety of our guests.